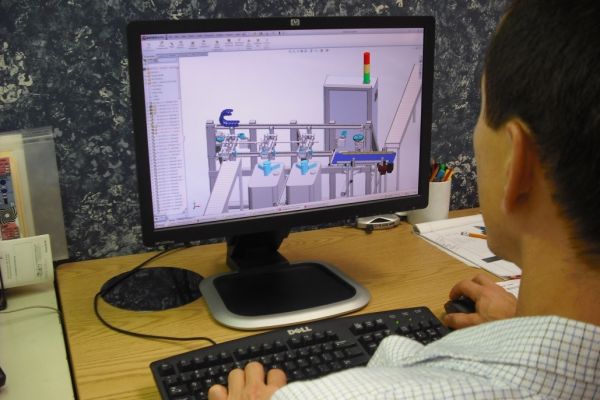 For 100+ years, Mitchell Machine, as a custom machine builder, has produced custom machine building projects to businesses in a wide variety of industries. Our machine-building capabilities range from focusing on building the full solution, to the initial design, or even the first batch and later assembly and installation. Businesses that are looking for specially designed machinery that's manufactured for them alone benefit from improved productivity and increased revenue.
This post examines the benefits of outsourcing custom machine design & build projects.
First, let's cover why it's important to bring in a custom machine building company in the first place.
Traditionally, a manufacturer needs one of the following:
Producing a new product.

Increase production output.

Decrease downtime with dependable operation.

Make a safer workplace (machines to replace humans).
Improve quality and repeatability.
Make upgrades or variations to existing product lines.
If the current or nonexistent machinery doesn't have the functionality needed or is not optimized for this new operational capacity, then a custom machine build may be necessary. Typically, the process for acquiring a custom machine build involves the customer approaching a machine design company, explaining their requirements, and receiving a cost proposal for the finished product.
However, that traditional approach mixes several critical steps in a machine design-build project that tend to cost the client time and money unnecessarily. For custom machine design and build projects, Mitchell Machine's approach for project implementation provides continued open dialogue between ourselves and our clients. Our consultations include not only advice on making your vision happen, but the most cost-effective and productive way of implementation.
Here are some benefits of outsourcing the design & build of custom machinery:
Access to a Broad Technology Base
Special machinery designers are continuously exposed to new and different technologies to support their customer's needs. Many special machine manufacturers service a variety of industries, allowing them to share technologies and techniques which ultimately benefit the customer. The nature of the special machinery business inherently spurs creativity.
Minimal Production Losses
Well-equipped special-machine companies have complete manufacturing, assembly, and testing facilities in-house, which permits performance evaluation prior to installing equipment in the manufacturing environment. Equipment hits the production floor ready to operate without startup problems and installation difficulties. In many cases, return on investment can be accelerated by getting immediate production. And, the savings are more than monetary. Employees will view the equipment more favorably and be more committed to the continued success of the project.
Machine Design Consulting Services can Save you Money
Automation investments are best justified when planned in advanced to avoid the hard lessons associated with cutting edge innovation. Design concepts, budgets, return on investment, and integration with your existing processes are examples of our professional consulting services.
Experience Leading to Simplicity of Machine Design
Minimizing custom subsystems and integrating proven technologies, like robotics and machine vision, will ultimately help to make the machine design more simple for all parties involved. By applying engineering principles with industry leading sub-contract partners, you can reduce technical risk as well.
Mitchell Machine | Custom Machinery Design Experts
Mitchell Machine's decades of cross industry experience and problem solving approach to machine design provides the basis for innovative and dependable equipment design.
{{cta('0d1e02c0-fa1a-4680-b110-8b5251419747′,'justifycenter')}}